Thailand for YOU Bangkok New Suvarnabhumi Airport
Back to: Suvarnabhumi Airport main page | Follow-up to: More Airport Photos
Airport Map
Level 1 - Bus Lobby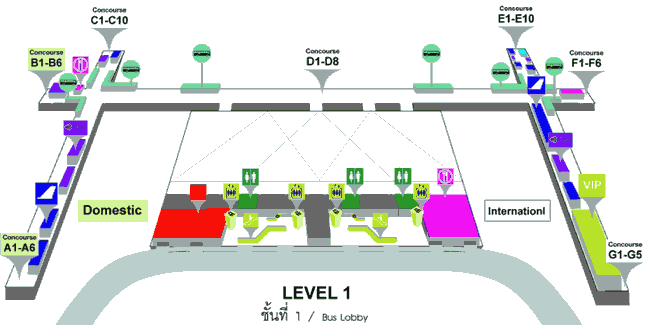 Level 2 - Arrivals

After landing, passengers coming to Thailand should enter the Arrivals Hall and proceed to
the Passport Control counters, followed by the Baggage Claim and Customs at the Level 2.

Level 3 - Meeting Point on Arrival
Level 4 - Departures

Departing passengers should proceed to the Departures Hall at the Main Terminal
Building Level 4 for the Passport Control and other standard departure formalities.


Take a look at more Airport Photos and essential travel advisories.

We look forward to greet you at Bangkok Suvarnabhumi Airport soon!



Custom Search

© 1998-2013, Thailand for YOU™ · All Rights Reserved • Legal • Privacy Policy