No matter what – Thailand is still amazing
News and Events from Mid-March to Mid-May 2010
Stay up to date with what's going on in Thailand

Bangkok on Fire
In mid-March 2010 the reds came to Bangkok once again to start the riots. Since then, thousands of protesters have turned a large area of Bangkok into a virtual state within a state. The mob occupied a large business district, destroying normal life and all regular activities of the city residents. Many businesses and public institutions are closed, people are out of work.

The truth is, the Reds are not fighting for democracy as Thailand already has a democratically elected government. The mob is fighting for the return of (their paymaster) Thaksin who killed far more innocent people than have died here and who once famously said: "Democracy is not my aim".

The red's protest is not about 'haves' versus 'have nots'. It is a demonstration of the raw power of money that can buy anything in this corrupt and lawless country. It is lack of the rule of law and corruption that have made Thailand a failed state in a first place.

The red's private security who in effect is an armed assault force (called black-clad guards) blend with unarmed people and cold-bloodedly lure the government forces, well knowing that it will result in death, victims of which then can be paraded for propaganda.

Mixing in non-combatants with combatants is the very definition of using human shields. Some protesters even brought along little kids and paraded them on the barricades in front of armed troops (i.e. putting an innocent child in the line of fire).
Insanity Rules

Redshirt Child in the Line of Fire at Tyre Barricade on Rama IV Road


The red mob thrown bombs among peaceful bystanders in Sala Daeng, shot RPG at Dusit Thani Hotel, targeted Lumpini Police family barracks with M79 grenades, and fired grenades in other places at soldiers who do not move. They blocked public traffic in the heart of Bangkok and raided Chulalongkorn hospital.

Red's Riots Again in Bangkok
Until mid-May 2010, I saw nothing being done to stop the violent mob.

A date for elections was negotiated and the road-map for reconciliation has been offered and accepted by most red's leaders. Not good enough. The mob persists on keeping its destructive presence. Night after night, I can hear their giant speakers, and roads I used to use are still blocked fortified with piles of sharpened bamboo spears, razor wire and tyres.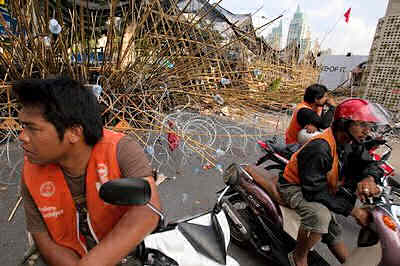 Two-Meter-High Bamboo Barricade in Bangkok
Originally, I criticize the way Thaksin was removed, but what the man he was. In hard competition he was still the worst Thai Prime Minister in present times, both from the human rights and corruption point of view. He is now a convicted criminal hiding somewhere in Montenegro.

I have been in the Redland (north and north-eastern provinces of Thailand) many times. The people there are kind and nice but also poor, ignorant, stubborn and totally brainwashed by their "leaders" who fed them with a load of lies 24-hour day-by-day. Then again, being unable to think for themselves and having no knowledge to refer to, the Reds believe what they are told.

Add to this that for many reds rioting in Bangkok is an easy way to get some money from Thaksin. If they go home, they can't find a job that pays baht 500/day (plus free food and accommodations).

Enough is enough for goodness sake, remove the mob as peacefully as possible, but remove them.

Bangkok On Fire


Professional thugs and hooligans in action, setting up fire to tires and throwing Molotow cocktails. The mob is terrorizing millions of people in Bangkok, robbing and looting shops. Are these the honest grassroot people that come to Bangkok to demonstrate for more democracy and against double standars? Somehow, they do not look like the poor and underprivileged farmers from Isaan.

Live Firing Zone in the Midst of Bangkok
Several residential areas in Bangkok are declared 'live firing zones'. Gunshots are coming from all directions. The situation elsewhere across the capital looks uncontrollable, as the standoff between the mob and the government troops continues. The red mob attempted to blow up a gas tanker rolled in to the Rama IV Road – one of Bangkok's major arteries. The firefights, violence and hostilities on the streets of Bangkok reached rather dangerous proportions after nearly a week of street fighting that started on Friday, 14 May 2010.

70 or so young children and their parents are among hundreds of redshirts who have sought refuge at Pathumwanaram Temple, near the main rally site between the CentralWorld and Siam Paragon. A big banner flying at the temple reads: "Compassion and Forgiveness Zone. No Arms Allowed".
Liberation of Bangkok
Early morning on Wednesday, 19th May 2010 the government troops backed by armoured vehicles, tanks and water trucks begun the crackdown at Rajprasong, Silom, Sala Deang, and Lumpini Park areas. The first round of intense gunfire were heard at about 6 A.M.

Bangkok's Central World Ablaze on 19th May 2010

The Buddha statue and Thai national flag in front of Central World shopping mall after it was set ablaze by the red's mob when the government troops advanced towards red-shirt's encampment.


Rioting and fires swept Bangkok after troops stormed a protest encampment, forcing protest leaders to surrender, but sparking clashes that killed at least four people and triggered unrest in northern Thailand. The total of 88 people died during the reds rally (from 12th of March to 19th of May 2010); 1,885 people were injured, 17 of them are still struggling for life in intensive care units.

Thai police arrests core protest leader Jatuporn Prompan
Furious redshirt's mob singled out a new enemy in their ongoing struggle, turning their anger on the media, the most visible messengers in the conflict: local TV stations, newspapers and even some foreign journalists. They set on fire Channel 3 TV building on Rama IV Road and arson rampage scores of properties across the capital.

Violent riots coincided with robberies and shop-looting. At the height of tensions, protesters were seen looting department stores in scenes of 'smash and grab' tactics. The luxury Gaysorn Plaza near the redshirt's strong-hold were raided by the mob. Some pricey goods have been found on redshirt protestors returning home to their respective provinces on free buses. Luxury items worth in excess of THB 10,000 have been found by police at check points outside Bangkok.

An overnight curfew has been imposed in Bangkok on 19th May from 20:00 till 06:00 the next morning. The first curfew in 15 years, as Thai capital is gripped by looting and torching. The air in Bangkok is bitter. The breeze carries a stinging black smoke pouring from flaming piles of tires and burning buildings. Big dark clouds going up into the sky are spreading all over the capital.

Bangkok in Black
As protests spread upcountry, a curfew has been extended to cover 23 Thai provinces to prevent rioting and arson. Government buildings in the northern provinces became targets of arsonist attacks including the provincial halls of Khon Kaen, Udon Thani, Mukdahan and Ubon Ratchathani, and the official residence of Chiang Mai governor.

A curfew over Bangkok and 23 provinces has been extended for three more nights to Saturday, 22nd May from 21:00 till 05:00.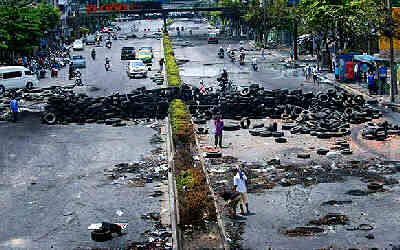 Reds Riots Aftermath
Following the Money
The Centre for the Resolution of Emergency Situation (CRES) blacklisted several dozens of companies and individuals, banning them against making financial transactions. The CRES cites the emergency decree, which empowers the authorities to impose such a ban for national security and public safety.

There are numerous companies and individuals that have been implicated in financing the redshirt protesters. They include fugitive ex-premier Thaksin Shinawatra, his former wife (who just recently withdrew $36 Million in cash) and their children, his sister Yaowaret Shinawatra and other relatives, and politicos: former transport minister Suriya Juengrungruangkit, former deputy interior minister Sermsak Pongpanit, former senator Wiboon Chamchuen, Pheu Thai politico Plodprasop Suraswadee, businessman Prayuth Mahakitsiri, redshirt leaders, and businesses with connections to the Shinawatra family.
Arrest Warrant Against Thaksin on Terrorism Charge Has Been Issued
On Tuesday, 25th of May 2010 the Criminal Court finally approved issuing an arrest warrant against fugitive former prime minister Thaksin Shinawatra on terrorism charge. Thai government accused Thaksin of inciting unrest and bankrolling the mass rallies of Red Shirts protesters. The 'terrorism' warrant is aimed at boosting the attempts to extradite Thaksin, and diminish his alternatives of sanctuary.

"Terrorism is the unlawful use of force or violence against persons or property to intimidate or coerce a government, the civilian population, or any segment thereof, in furtherance of political or social objectives." - FBI -

The court initially approved a special investigation request to issue 10 arrest warrants for terrorist suspects, including Thaksin. But two hours later, the court revoked its decision on Thaksin and asked the Department of Special Investigation (DSI) to send back Thaksin's case for the court to reconsider. The DSI sought and received the latest batch of nine warrants on the nine suspects involved in violating the emergency rule. The nine suspects are: Adisorn Piengket, Wiphuthalaeng Phattanaphuthai, Payap Panket, Jeng Dokjik, Wichien Khaokham, Aree Krainara, Suksek Pholsue, Surachai Thewarat and Rachot "Kob" Wongyod.
Failure and Disgrace of the Thai Police
The right for peaceful demonstrations is upheld by the Thai constitution as long as it doesn't infringe on the rights of others. The reds' rallies in Bangkok began in a relatively nonviolent manner, but in a short while they metastasized into an armed insurgency. The Thai government then issued an Emergency Decree to curtail the freedom of assembly. A breakdown of law and order is literally happened under the police nose at Rajprasong area, explicitly declared off-limits to the Red's protests, when the Thai police failed to enforce it.

The police have a lot to answer for by allowing the redshirts to occupy, camp down and erect a stage at Rajprasong that blocked traffic and clearly infringed on the rights of other citizens to pass by and go about their normal business. This took place virtually in front of National Police Head Quarters, so they can't say they didn't notice it. How they can be trusted with any security operations against the redshirts?

Furthermore, as the reds dug in and began bringing weapons into the site, the police looked the other way. When Red militants (so called black-clad guards) from the site attacked peaceful protesters on Silom Road with M79 grenades, the police stationed between the two groups failed to lift a finger. When angry reds broke into Chulalongkorn Hospital, the police pretended not to notice a wanted redshirt leader standing next to them.

When the military finally moved in to blockade the campsite, the police again failed to assist them, allowing militants to escape into surrounding neighbourhoods and turn sections of the city into war zones.

The protest exposed the intolerable failure on the part of Thai police to uphold the law and protect the citizens from unspeakable violence. It can't be overlooked, there has to be a reckoning for this failure.
Latest Update
At the end of May, amid the dicey political situation the safety and normality is gradually restoring in Bangkok, now called The City of Lost Angels.

Information and Visa Application Inquiries