Siam Center
The Center of Fun and Fashion

Siam Center, the "Center of Fun" was built in 1973 - one of Bangkok's first shopping malls. It houses a couple dozens boutiques of the trend-setting local designers and some 120 trendy shops mostly for the younger generation. Siam Center has undergone several renovations, the latest one features a concept of "Magical Glass Box" and it brought a newly refurbished food court to the four-story mall. A modernly decorated food court is called the Food Republic and it is surrounded by a dozen or so restaurants, some food outlets, and professional shops.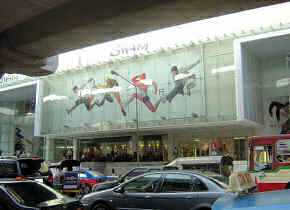 Magical Glass Box


Siam Center markets itself as a fashion center for teenagers. There you can find clothes, silk and leather goods, fashion and accessories, salon and beauty products, sports and outdoor gear, shoes, musical instruments, interior shops, the latest original computer games direct from Japan and the first trend-setter and public casting photo studio in Thailand. Even a cosmetic dentistry clinic is found there as well. The spacious and well-disposed Starbucks Coffee Shop on the ground floor is a nice place for a comfy warm up.

Display Windows of the Workshop


Especially the young and young-at-heart Thais is said to be hanging and shopping in Siam Center. Initially, it was the place where young kids met each other and spend time at eating and drinking spots such as T42, Zen, Deva, Café de Tu. You still see young Thais around dressed up with some fantastic abstract style and making fun. After all, the place still poses that magical force magnetising the youngsters.
This grand dame shopping mall is recently coupled up with Siam Discovery. They are placed next to each other with a skybridge connecting the fourth floor of Siam Center to Siam Discovery, and owned by the same company Siam Piwat Co, Ltd. A courtyard between the two malls is often utilized to host concerts and special events.
To be continued...

Information and Visa Application Inquiries